Knowledge Base
Let your users find answers to their questions
Datawing includes a fully featured knowledge base facility. You can create articles and publish them to your users.

Manage multiple knowledge bases
Organise your articles into knowledge bases for different aspects of your business. Publish knowledge bases to different associate user groups to the public or to specific service contracts.
Edit while browsing your knowledge base
Edit your knowledge base from the same interface as your users so you can see what your users see.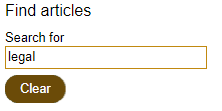 Find articles quickly
Visitors to your knowledge base can search for articles quickly using our ranked search.
Create articles with ease
Adding & editing articles is easy with the WYSIWYG (what you see is what you get) editor. Create professional looking documents quickly.